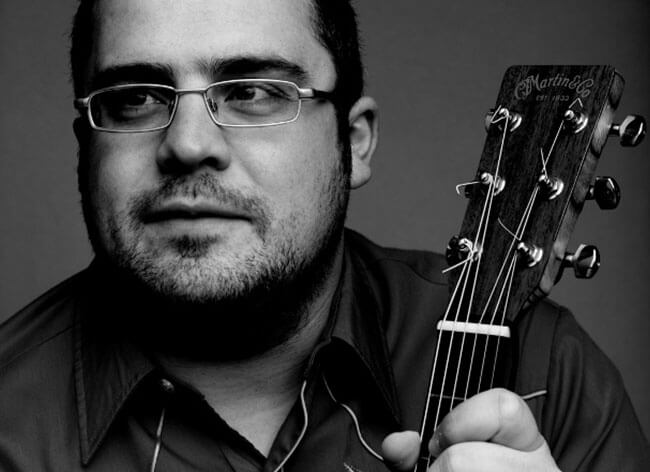 Ags Connolly is a traditional country singer-songwriter from Oxfordshire, England. Country is the simplest description, but Ags is a proud supporter of Dale Watson's 'Ameripolitan' movement, which supports new music with a roots influence, away from the modern incarnation of country that exists today.
Having attempted to write songs for years, Ags found the confidence to take it seriously after attending a workshop with Nashville super-musician Darrell Scott. Since then he's built a reputation as an inspired songwriter at various live shows including festivals like Country2Country in London, Summertyne Americana Festival in Gateshead and Southern Fried Festival in Perth. Ags has also shared the stage with artists such as Rosanne Cash, Jimmy LaFave, Martin Stephenson and Cale Tyson.
Ags' influences come essentially from hardcore country songwriters like David Allan Coe, Johnny Paycheck and Dale Watson but he also takes major singer-songwriter influences from the likes of Guy Clark, Loudon Wainwright III and Chris Knight.
His debut album 'How About Now', produced by Dean Owens, was released on Drumfire Records in February 2014 to critical acclaim including the following:
"One of the best records you are likely to hear this year… so strong is Connolly's writing, dare I suggest that Ags Connolly is the closest we've ever come to an English Willie Nelson? Yes, he's really that good, and his voice is unique." – Duncan Warwick, Country Music People
"'How About Now' is a masterpiece of British country" – Maverick
"A compelling debut." – Independent on Sunday
"One of the most promising new talents on the Brit country scene." – Record Collector
"Drop all the qualifiers, discounts, and rhetoric about origin, Ags Connolly deserves to be considered right beside his Stateside counterparts as one of the carriers of the country music holy ghost whose carefully-crafted songs can speak to the human heart universally, irrespective of borders." – Saving Country Music
"His delivery evokes the memory of David Allan Coe's best work… with arrangements and instrumentation that bring the lyric and effortless vocal so far forward they reach past your auditory and right into your heart, right into your soul, right into your gut." – Alan Cackett, alancackett.com
"Extraordinarily accomplished… hard to believe that it's a UK product. As good a country record as you're likely to hear from anywhere this year" – Flyin Shoes Review
"Ags is up there with the best America and Canada have to offer and in Britain is pretty much peerless" – AmericanRootsUK.com
"A real find… truly leads the field in the all-too-congested Americana stakes" – Whisperinandhollerin
"How About Now is as good a bittersweet love song as anyone else produced in the Southern States this year; and his ode to his Country hero – I Saw James Hand is not just clever; articulate and well written but sung straight from the heart… with songs like many of these Connolly and indeed the British Country Music scene has a lot to be proud of now." – No Depression
Representation in association with Brighthelmstone Promotions
Availability
Please enquire for availability
Contact
Jim Walker / BPA Live
07894 155680 / 01359 230357
james@bpa-live.com / info@bpa-live.com