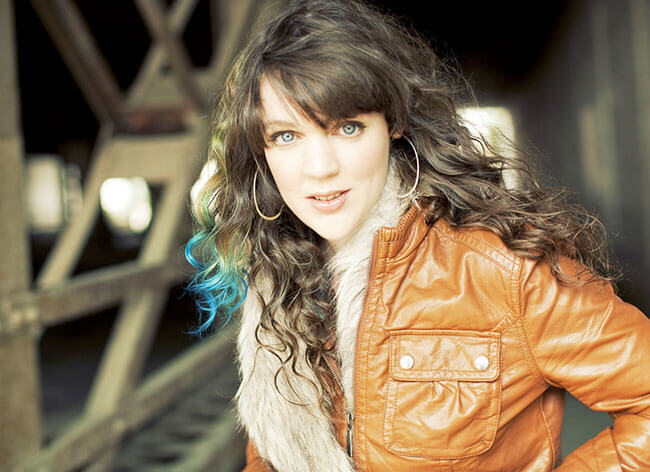 Amelia Curran, a songwriter, activist and mental health advocate from St. John's, Newfoundland has won or been nominated for JUNO Awards for her past three consecutive albums and for more than a decade distinguished herself as one of this country's most cherished lyricists and preeminent poetic songwriters.
Watershed, marks a threshold and a directional change. The tenor of this new album is openness (not to be confused with optimism), a reflection in part of Curran's increasingly public efforts to battle the stigma of mental health issues in the arts. As a whole, the album calls for compassion and unification as a breakwater against the sea of cruelties we inflict upon each other, and upon ourselves.
In keeping with the artist's off-stage commitment to raising her voice, Curran establishes a core feminist dimension to Watershed's theme of speaking up with "Gravity" and "No More Quiet," two of the album's standout – and vigorously feminist – songs. Lead single "Gravity" is a two-and-a-half-minute precis accented by horns and bass-y power chords. On this song, Amelia's noted lyricism gets a shot of feminist rock grit – think Chrissie Hynde meets Ron Hynes. "No More Quiet," is a powerful take down of gender tokenism, and slams the door on those who perpetuate inequality with a soaring soul outro by the larger-than-life vocals of blues singer Shakura S'Aida.
From the opening notes of the title track throughout the album, waves of distorted guitar batter Watershed's softer shores. The surges of electric riffs create a strong undertow, churning and roiling as Curran's lyrics express agitation, frustration and exhaustion with fighting the currents. "The root of advocacy is somewhere near exhaustion and rage. I am tired and I am angry," Curran has said of her mental health advocacy. Certain songs on this album, such as "Try" and "Stranger Things Have Happened," address a similar fatigue and hostility with the music business. "It's no place for art," is all Curran will say.
Watershed is the result of a convergence of autobiographical and political fault lines, as in recent years, Curran has become more involved with political and humanitarian work focused on mental health awareness and acceptance. Curran is the founder of It's Mental, a grassroots community organization based in St. John's. She also produced and directed the film "Gone," an exploration of art and suicide. The documentary, which aired on CBC Television to Canada's East Coast this Fall, will air nationally in 2017, recounts the loss of several close friends and Curran's own struggles with depression, treatment and self-acceptance. Curran's willingness to end her own silence on the subject of mental health has also formed the basis of recent speaking engagements in schools and music conferences across Canada.
In addition to the release of Watershed, 2017 will see Amelia Curran's first literary publication, Relics & Tunes, a collection of lyrics and notes, via Breakwater Books.
Availability
June 2017
Territory: UK & Ireland
Format: solo
Looking for dates, please enquire for availability
Contact
Bob Paterson – BPA Live
+44 (0)1359 230357
bp@bpa-live.com