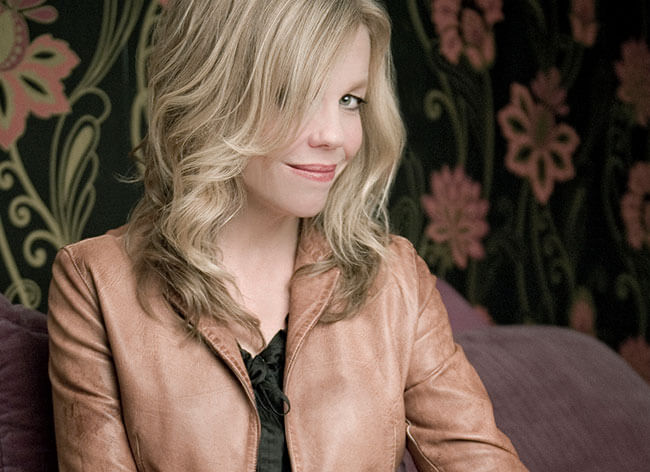 BRIGITTE DeMEYER & WILL KIMBROUGH
MOCKINGBIRD SOUL
Release Date: February 17 2017
When Brigitte DeMeyer and Will Kimbrough first joined their soulful voices in song six years ago, they knew they were destined to make beautiful music together. Since then, they've showcased their instinctive vocal interplay and formidable song-crafting skills throughout North America and Europe, collaborated on two albums, and become the best of friends. But the Nashville-based pair had never released a recording as an official duo – a situation they'll finally remedy with Mockingbird Soul – "We figured we might as well put both our names on it and just make it a thing," says Kimbrough, "because the chemistry's there, the writing's there, the harmonies are there, and so is our mutual love of all the music these songs are derived from and inspired by." That would be what he calls "the good stuff": blues, gospel, early jazz and the country music those genres influenced, along with bluegrass, early rock 'n' roll, folk… American roots music, in other words. DeMeyer characterizes their wonderfully warm, organic blend as acoustic soul.
Despite their geographically diverse upbringings – he was raised in Mobile, Alabama and she was a surf-loving California girl – both had fallen under similar musical spells. She was bewitched by Etta James, Mavis Staples and Sly Stone, and later Steve Earle, Patty Griffin and the Allman Brothers. He was seduced by the Beatles, Big Star and JJ Cale, and guitar rock from Allman to ZZ. Lightnin' Hopkins, a touchstone for both, was the source of an early bonding moment. The South is another shared influence; DeMeyer's vocals carry as much sultriness as a humid evening in New Orleans, where she found lyrical inspiration for 'The Juke'. That back-porch blues tune features Kimbrough teasing a harmonica while picking what she labels as a "greasy" groove. The Crescent City also informs 'Little Easy', a sweet ballad inspired by a guided tour of Mobile DeMeyer received from Kimbrough's sister and mother, who calls her city by that name. With only his gentle strumming caressing their harmonies, they deliver what Kimbrough describes as "a love letter to my mom in the form of a love letter to Mobile."
Like many songs on Mockingbird Soul, 'Little Easy' also highlights another mutual love: literature – and "old, arcane language." "Because we both like to read, we have a lyrical chemistry, too, with a literary approach," DeMeyer says. That explains the unique rhythms coursing through verses like this one, from 'Rainy Day': All this rain comin down/Sky's been talking to the ground/Says me and sun and good spring air/Gonna grow what you've got going there – the tune's swampy vibe resonates from deep inside an upright bass played by the Wood Brothers' Chris Wood. Another Wood Brother – Oliver – co-wrote and sings the delicate 'Carpet Bagger's Lullaby' with DeMeyer, while elsewhere the band's Jano Rix adds percussion and shuitar to 'The Juke' and romantic opener 'Everything'. Blue Mother Tupelo's Micol Davis thumps occasional "church tambourine" and DeMeyer strums an eight-string ukulele on 'Until Then'. But aside from Chris Donohue's percussion and non-'Rainy Day' bass contributions, it's all about their voices and Kimbrough's guitar.
Though Kimbrough can play just about any noise-making object on the planet, the Americana Music Association's 2004 Instrumentalist of the Year is renowned as a monster guitarist who's collaborated and toured with Todd Snider, Rodney Crowell, Emmylou Harris, Jimmy Buffett and many others. His songs have been recorded by a who's who of the genre; he's also produced several albums, including Snider's East Nashville Skyline, in addition to his solo releases, and performs in Daddy, with Tommy Womack, and Willie SugarCapps.
On Mockingbird Soul, Kimbrough stuck with his favourite instrument, the vintage Gibson J-45 he was able to afford after an airline paid up for smashing his Martin D-18 – "It's a real soul mate of a guitar, in the same way that Brigitte's a real soul mate of a collaborator," he says.
Though DeMeyer didn't start writing songs until her early 20s – and didn't play them for anyone until years later – she made up for lost time with a series of solo albums, including several with drummer Brady Blade. He introduced her to Buddy Miller, Al Perkins and Donohue, and performed with Kimbrough on her 2011 release, Rose of Jericho. DeMeyer and Kimbrough then collaborated on most of her 2014 album, Savannah Road. DeMeyer has opened for Bob Dylan and Gregg Allman and toured with John Mayall.
'Honey Bee', a sexy, bluesy vamp, actually was written on a back porch, and is one of the album's more lighthearted numbers. Its gravity comes from songs like 'I Can Hear Your Voice', one of two Kimbrough wrote solo. It expresses the ache of losing a parent who is still present physically, but whose mind and spirit have flown. Kimbrough also reflects on the passage of time with 'Runnin' Round', which recalls childhood summers spent indulging in forbidden behaviour. The album ends with a cover of the Incredible String Band's 'October Song'. "It reminds me of Townes Van Zandt's 'To Live Is to Fly'," he explains. "It just sums up a lot about existence." DeMeyer knew they had to record it as soon as she heard the gorgeously picked instrumental sample he'd sent; "the vibe" practically leaped out of her computer.
If music is ultimately about moving people – physically or emotionally – there's no question DeMeyer and Kimbrough achieve that. But according to Brigitte, "It's just two really good friends who love to play music together, and have chemistry doin' it. We just enjoy it," she says. "So we hope everybody else does."
Availability
Please enquire for availability
Contact
Bob Paterson – BPA Live
+44 (0)1359 230357
bp@bpa-live.com