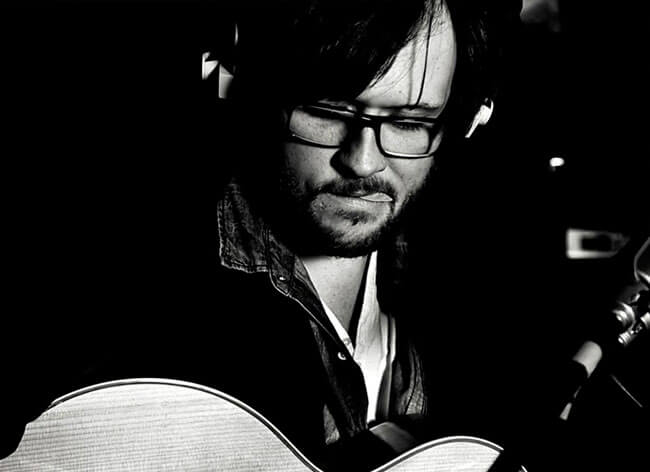 "He is the real deal" – Bob Harris
"Live, he is a colossus" – Liverpool Sound and Vision
"In Robert Vincent, Liverpool has a giant of such lyrical repose, of such melancholic absolution, that he towers in virtue each time he steps on to a stage, physically and musically." – Ian D. Hall, Liverpool Sound and Vision, review of Robert Vincent, support act to Paul Carrack concert, Liverpool Philharmonic Hall, January 2016.
Robert Vincent is an award winning singer songwriter from Liverpool. He is currently supporting Paul Carrack for the third time on his full UK tour and has been receiving rave reviews (see above). It comes as no surprise therefore (especially to his legion of loyal followers) that the legendary Bob Harris has joined the ranks of his admirers. Having seen him play live at an event called Bluebird at the Bluecoat which brought the legendary Bluecoat Cafe from Nashville to Liverpool, Bob invited Robert to record one of his Under The Apple Tree Sessions in his home studio and also for his Radio 2 show. Clearly this consolidated Bob's admiration for this talented musician as he recently awarded Robert the prestigious and first ever Bob Harris Emerging Artist Award for Americana UK describing him as "absolutely magnetic". Bob said:
"I am so impressed with Robert's music. Strong songs laced with blues and country. He is the real deal".
This endorsement of Robert is further consolidated by Bob's invitation to him to play at the Under the Apple Tree festival later this year. 2016 will also see Robert playing at the Maverick and C2C festivals. Add to this several headline shows of his own, a trip in March to Nashville for the Tin Pan Songwriters Festival and a performance at the famous Bluebird Café and you begin to realise that Robert Vincent is someone special.
Vincent credits his influences to his upbringing where his formative years were spent listening to his father's collection of Emmylou Harris, Charlie Rich and Waylon Jennings albums and his older brothers introducing him to Pink Floyd.
These early influences can be detected in Vincent's own story telling style of songwriting. He stirs a range of emotions with songs that, although often melancholic, are never maudlin, the memorable melodies leaving you feeling uplifted.
In 2013 Vincent released his debut album "Life in Easy Steps". The title track was play listed on Radio 2 and received 4/5 Star Reviews in the music press. Since then he has been receiving National airplay on both Janice Long and Bob Harris' Radio 2 shows and on Radcliffe and Maconie as well as local airplay throughout Merseyside. Last year he supported James Blunt, playing to a packed Arena. Blunt said he chose him as support because: "I really like the sound of Robert Vincent's voice, and the craftsmanship with his songwriting."
A new album, funded by a pledge campaign, is close to completion and will be released over the coming months. Those already in on the secret that is Robert Vincent, await eagerly in anticipation.
Press Quotes:
"If you're not moved… there's no hope" – R2 Magazine, 4/5
"Vincent mixes Folk, Rock and Country, employing piano, strings and howling pedal steel against a gravel washed Richard Hawley vocal. A young man filled with dreams, regret and shocking talent, giving his all. Now is his time" – Mojo – ****
"A thoroughly modern piece of country rock" – Q Magazine – 4/5
"It's not often I go out and say to try a new artist but on this one occasion it is something I recommend…" – Brian Case, Lifebegins
Representation in association with Brighthelmstone Promotions.
Availability
Please enquire for availability
Contact
Jim Walker / BPA Live
07894 155680 / 01359 230357
james@bpa-live.com / info@bpa-live.com